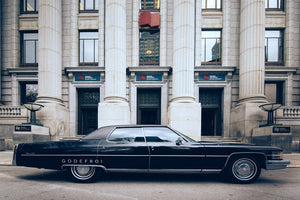 The Godefroi excellence
Since 2013, Maison Godefroi has carved out a place for itself at the heart of Montreal fashion and offers its creations in numerous points of sale across Quebec. Thanks to its online store, its accessories travel to the four corners of the world, serving customers in the United States, Italy and France. But choosing, smelling, and touching leather accessories is living the Maison Godefroi experience. The company has therefore decided to reach out to the public and to fashion lovers.
The new Godefroi Mobile
It is with pride that the Godefroi Mobile boutique was born. Elegant and easy to recognize, the beauty is a magnificent 1974 Cadillac Sedan Deville that bears the corporate colors and the name of Maison Godefroi. At the door of your office, the Godefroi Mobile allows you to choose from magnificent exclusive products such as bow ties, ties, bracelets, card holders, and silk squares to name a few. Take advantage of these accessories at a discounted price! What could be better than a pretty buttonhole to give your morning style a makeover? A glamorous touch for your happy hour? Or choose a gift for your colleagues or clients?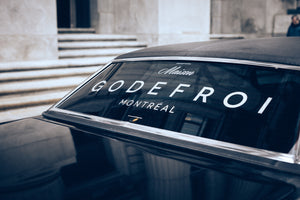 Don't miss Godefroi house in the streets of Montreal
Starting in June, you will have the chance to see the Godefroi Mobile crisscrossing the busy streets of Montreal and at major festivals and events.
Ultra photogenic, the boutique on wheels will charm you with its allure and curves. Why not take a picture with her? And if you're on the run in the morning, Maison Godefroi even offers you free coffee! Espresso or regular? One sugar or two?